The Student Employment Office is responsible for administrating all aspects of on-campus employment including hiring procedures, policies, best practices, and enforces compliance with university and state/federal regulations. We develop resources for student employment training and evaluation to provide students and their supervisors with meaningful and professional experiences. We offer one-on-one advising, career development workshops and events throughout the year.
We are open Monday through Friday, 8:30 a.m. to 5:00 p.m. You can connect with us at 312-996-3130 or studentjobs@uic.edu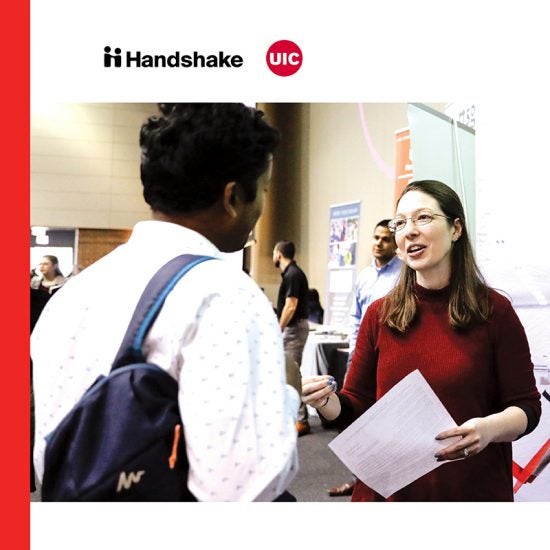 Welcome UIC Students! Looking for an On-Campus Job? Heading link
UIC is a Handshake school! Handshake is the premier site for connecting students to a wide variety of employers and opportunities!
Here are some important things to know:
• All students registered for classes are automatically uploaded to the system – simply log in with your University credentials to "claim" and activate your account! Be sure to complete your profile so that Handshake can begin suggesting opportunities for you!
New students who have been issued a UIC email may request an account on Handshake.
• UIC Alumni are welcome to create new accounts in the system as well! Just follow the directions to register for a new account and we'll get you approved right away.
Learn More
Meet with us either by appointment or during our drop-in hours! Heading link
Got a quick question or need a resume review? Come by during our drop-in advising (virtual or in-person)! Please be aware that these will be short 10-15 minute sessions – an advisor may need to schedule a longer appointment if you have various questions to be answered.
***Drop-in hours will be virtual via Zoom for Tuesday, December 5th and Thursday, December 7th.
Drop-In hours for Fall 2023:
Tuesdays, in-person in the Student Employment Office (SSB 2100), 2PM – 4PM CST
Thursdays, virtual via Zoom, 1PM-3PM CST

Join the Zoom link below anytime. You will be entered into a waiting room and the advisor will let you in for a 1:1 session.
Where: Virtual Zoom Link
Meeting ID: 462 002 4241 Password: SEO2100! 
Make an appointment with us on Handshake
Students can now schedule their own appointments for the Job Location, and Development program, resume review, and job search advice for part-time on/off campus positions with Student Employment staff directly on Handshake! If you haven't used Handshake before, you can log in to claim your account using your University credentials.
Follow this link to schedule your appointment: https://uic.joinhandshake.com/appointments
Choose "Student Employment".
Choose appointment type:
Student Employment: Job Location and Development Program
Student Employment: On-Campus Student Employment Advising
Student Employment: Resume Review
After that, you'll receive an email confirmation with further information/location for the session.  If you would like a resume or cover letter review, just have those materials ready for the session.  For other topics, it would be helpful to come with a list of questions or issues you'd like to discuss with the advisor.