Our office is open Monday through Friday, 8:30 a.m. to 5:00 p.m. You can also connect with us at (312) 996-3130 or studentjobs@uic.edu.
Notice Update: Effective August 1st, Human Resources partners throughout the departments and colleges at UIC will assume primary responsibility for the HR onboarding and processing of new and returning student employee hires. 
Advising
Advising Appointments for Job, Location, and Development program and Resume Reviews 
Schedule an appointment for the JLD program or resume reviews on Handshake. The JLD coordinator is available through email, online conferencing, or phone to discuss any career related questions.
Drop-In Advising on Tuesdays and Thursdays
Tuesdays, 2-4PM (In-Person)
Thursdays, 1-3PM (Virtual)
The Drop-In Advising Sessions on Tuesday, 10/26/2021 and Thursday, 10/28/2021 are CANCELLED. We will resume our regularly scheduled sessions on Tuesday, 11/02/2021
Click HERE for more details!
Questions
if you have general career- related questions, please email Sandy Le at sle4@uic.edu and your email will be answered as soon as possible during the hours 8:30 a.m. to 5:00 p.m., Monday – Friday.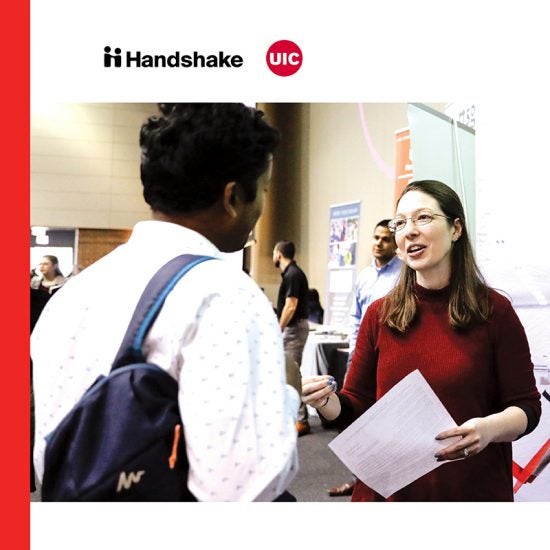 HANDSHAKE IS NOW LIVE!
As of Summer 2020,  UIC officially became a Handshake school! We are very excited to move to Handshake, which is the premier site for connecting students to a wide variety of employers and opportunities!
Here are some important things to know:
• All students registered for classes are automatically uploaded to the system – simply log in with your University credentials to "claim" and activate your account! Be sure to complete your profile so that Handshake can begin suggesting opportunities for you!
New students who have been issued a UIC email may request an account on Handshake.
• UIC Alumni are welcome to create new accounts in the system as well! Just follow the directions to register for a new account and we'll get you approved right away.
Learn More
Who We Are
We offer assistance to UIC students, departments and off-campus employers. Such employment not only provides students with a means of earning money, it also provides students an opportunity to develop new skills and positive work habits which will ensure professional success. Students are expected to consistently execute job responsibilities in a satisfactory manner. In addition, we sponsor various job fairs throughout the year and a series of career development workshops.
Mission
Our mission is to enhance student learning and meet departmental student employment needs by providing meaningful work experiences.