COVID-19 UPDATE
WE ARE CURRENTLY OPERATING REMOTELY!
The Student Employment Office is temporarily closed, effective 3/17/20 until further notice.
While our office is closed, our Student Employment staff is available remotely and ready to assist, so please call 312-996-3130 or email studentjobs@uic.edu, Monday-Friday, 8:30am-5:00pm.
NOTICE
On March 20th the University released a UIC Hourly Employee Pay Directive in regards to COVID-19. Based on this directive and guidance, all Federal Work Study and Regular Student employees are asked to continue their jobs remotely at this time. Student employees who are unable to work remotely should still continue to get paid for the remainder of the Spring semester until May 16, 2020 (BW11). The employing unit supervisor should be in touch to discuss whether the student's job responsibilities as well as their current personal circumstances make remote work feasible. If student employees have specific questions, they should contact their employing unit supervisor.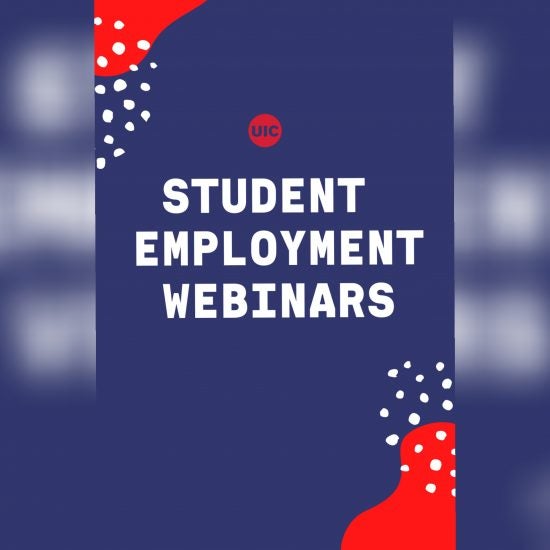 STUDENT EMPLOYMENT WEBINARS
Find out more about working on-campus as a Student Employee!
Check out these webinars on the Events page
– Intro to Student Employment Webinar
– B.E.S.T. (Basic Employment Student Training) Webinar
– Making the Most of your On-Campus Job Webinar
Click below to get started!
Webinars
Requisition Forms and Virtual Appointments
HR Student Employee Requisition Forms and processing is currently being handled at the employing department level.
Virtual Appointments for Job, Location, and Development (JLD) Program 
Please fill out a JLD Interest Form to schedule an appointment. The JLD coordinator is available through email, online conferencing, or phone to discuss any career related questions. If you have any questions, contact Sandy Le at sle4@uic.edu.
Virtual Walk-Ins
At any time throughout the day, if you are interested in a review of your resume, cover letter, or other job search related documents, or if you have general career- related questions, please email Sandy Le at sle4@uic.edu and your email will be answered as soon as possible during the hours 8:30 a.m. to 5:00 p.m., Monday – Friday.  Please attach the document to be reviewed as well.
Who We Are
We are a centralized service that offers assistance to UIC students, departments and off-campus employers. Such employment not only provides students with a means of earning money, it also provides students an opportunity to develop new skills and positive work habits which will ensure professional success. Students are expected to consistently execute job responsibilities in a satisfactory manner. In addition, we sponsor various job fairs throughout the year and a series of career development workshops.
Mission
Our mission is to enhance student learning and meet departmental student employment needs by providing meaningful work experiences.
Student Employment News & Events